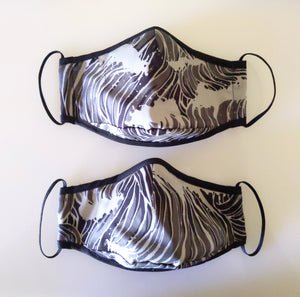 SELECTIVE HĀ masks are created with sustainability in mind - they are reusable and 100% designed and handmade in Hawaii. Every mask is one of a kind, hand cut and sewn, with 100% organic cotton linings and moldable nose wire to ensure perfect fit and comfort.  They are constructed with pockets intended to house activated carbon filters, which protect the wearer against smoke, dust, pollution, odors, pesticides, pollen, airborne illnesses, and other small particulate matter. Protect your hā (breath) and share it responsibly -- aloha!
This listing is for the Cape of Good Hope Kids mask, as shown in the first image of the listing. Masks are sold individually. Multiple masks in an image is to show pattern variation. 
Kids  masks come with two activated carbon filters that can each be used for approximately 70 hours of active use. More filters can be added as desired.

**We make no claims as to the medical benefits of our masks or filters purchased through us or elsewhere.**